Posted on July 30, 2008
Filed Under art | Leave a Comment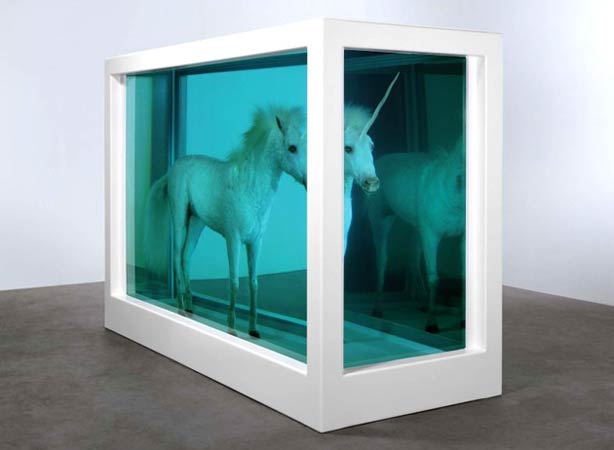 "A small menagerie of new Damien Hirst pickled animals took a bow yesterday, including a new shark, a zebra, a calf with solid gold horns and hoofs valued at up to £12m, and even a unicorn – a white foal fitted with a resin horn, rather than an apparition from a fairytale. All have been churned out by his small army of assistants this year for an auction at Sotheby's in September which will sell more than 200 pieces. The auction is predicted to raise £65m, comfortably setting a new world record for the artist, and blazing a trail which other artists will watch with interest, of bypassing the gallery and dealer system and going straight to auction.
Both the Gagosian Gallery, and Jay Jopling's White Cube, his American and British dealers, have given the auction their blessing, possibly through gritted teeth. Yesterday Jopling said: "I've stood alongside him in all his ventures including his strategic forays into the auction world, which have certainly helped to broaden his market. 8601 flawless diamonds [Hirst's £50m diamond-studded skull] notwithstanding, ours has never been a traditional marriage and I look forward to many more adventures to come."
Larry Gagosian said his gallery would probably be buying: "He can certainly count on us to be in the room with paddle in hand." Sotheby's and Hirst have been forging an equally intense relationship. Earlier this year he joined with the singer Bono to lead the RED charity auction at Sotheby's in New York, which raised over $42m (£21m) with donations from Banksy, Marc Quinn and Anish Kapoor, the most successful charity art auction ever. The flirting began in 2004, when Hirst sold the contents of his restaurant Pharmacy, from ash trays, wallpaper and bar stools to wall cabinet sculptures, through the auction house: after queues around the block to get into the auction, every piece sold, for £11.1m, well over double the top estimate.
Last year Hirst briefly set the auction record at Sotheby's – £9.65m for Lullaby Spring, a medicine cabinet – for any work by a living artist. However, he was knocked off his perch within a few months by the American pop artist Jeff Koons, whose Hanging Heart sold at another Sotheby's auction in New York for $23.6m, leaving New York dealer Richard Feigen to include both, along with Andy Warhol, on his personal list of the world's most over-valued artists. Yesterday Oliver Barker, senior international specialist at the auction house, described the new works as "ambitious, exquisite and incredibly powerful. "Damien Hirst is still an artist punching above his weight – this is a body of work which takes him into new realms," he added. "It would be so easy to say we've seen it all before with Hirst, but I think people will be blown away by the scale and ambition of this collection. I think he's interested in getting work into parts of the world that have not had the opportunity of buying major pieces before, including India, China and Russia – and we've certainly had a lot of interest from collectors in these places." (from the Guardian)
more
Comments